Is your interest about Aquabike racing peaked? Can you visualize yourself at the starting line; all jazzed and thrilled that you successfully completed your training and that you actually made it to the show?  It feels good, yeah?  Visualizing success is the first step to getting there.  The second step is putting together a practical and effective aquabike training plan.  A training plan that takes you from where you are now to confidently stepping up to the starting line on race day and crossing the finish line with pride.
Where to start
The first thoughts popping into your head probably go something like this;
"How do I train for an Aquabike event?"
"How do I put together an Aquabike training plan?"
"How much time do I need to get in shape?"
These are all very good questions and it shows that you are motivated to dive right into aquabike training.  The awesome thing about it is that anyone who is generally healthy with no *contraindicative medical conditions and is capable of swimming, riding a bicycle and strength training can do aquabike training.
So if that sounds like you, the following road map will enable you to start building the foundations of a completely customisable personal aquabike training plan that fits your unique situation and needs.
Will it allow you to shut your brain off and be spoon fed your plan?  No.  It will, however; give you control of the handlebars so that you have a sense of ownership in your training direction and success.
Consider the variables
The first step to putting your plan together is to consider all of the variables. Mainly;
Swimming confidence
Bicycling confidence
Current level of fitness
Length of time til the event
Distance of the event
Level of commitment and available time to train
Remember, that it does not matter what your starting level is.  It is all okay.  Work with the talents you have and build from there.
Whether you are a person who;
is accustomed to exercise and love to workout
is a stay at home mom ready to start exercising for yourself again
has been pulling long hours at the office
is over 40 and dealing with a body that doesn't recover like it used to,
…IT IS OKAY.  You can train for this.
Success will come from dedicating yourself to the goal and committing time for training and self care.You can do it.  I believe it.
Let's dive into these variables a little further and unpack them even more with some questions.
---
Be Honest, Stay Positive & Be Prepared
These questions aren't meant to be daunting or to discourage you, but to highlight elements that you will want to factor into your training. You want to have the ultimate confidence that you've got it all under control on race day.  Taking a bold look and honestly evaluating your current skills and conditioning will allow you to address each gap during your training so that you can own it on the day.  I don't want you to be caught up unprepared or unaware.  Lord knows, Murphy's Law and the Law of Chaos will always throw something unexpected into the mix.  You want to be prepared and able to master anything that comes your way.
How is your swimming?
A pretty basic question, but it weighs on how much time you will want to dedicate towards prepping for your race day swim.
How solid is your crawl stroke?
How strong is your breast stroke?
Are you comfortable in the pool and ocean, or do you flail around like a mad koala?
What is your level of swim conditioning?  How many meters or laps can you swim in the pool before needing a break?
Have you engaged in open water swimming?  Not just frolicking and floating on the inner-tube, but swimming over a distance.
Would it help to get coaching and support?
The crawl stroke is the fastest and most efficient stroke that most aquabikeathletes use.  The breaststroke is a good stroke to use if you need to rest or catch your breath and your bearings.  I, on the other hand had to use a side stroke for most of my first Aquabike event.  You can read more about it in my post "My First Half Ironman Aquabike and Rookie Mistakes.
Consider getting support if you feel you need it.  A session or two with a swim coach to improve your technique can make a huge difference in efficiency, speed and amount of energy expended.  You could also seek out swim squads to join at the pool or beach for camaraderie, motivation and for safety on open water swims.
How is your bicycling?
How confident are you handling a road bike?
What kind of a course can you ride; flats, hills?
Are you comfortable using bike cleats?
Can you change a bike tire?
One of the trickiest things to learning how to ride a road bike is those darn toe cleats.  My main tip for toe cleat newbies is Anticipate.  Anticipate when you are going to need to stop and click your foot out of the pedal well in advance.  Practice the move and make it second nature.  Your knees, hips, elbows and neck will thank you for it.  Once you master the pedals, you'll never go back.  They are amazing because they allow for greater pedal stroke efficiency throughout the full motion of the stroke.
Your local bike shop is a great resource for riding tips.  It is also common for local shops to sponsor or organise weekly group rides.  If you are unsure about where to ride or timid about riding on the road, check in at your local shop.
How fit are you?
What is your current level of fitness?
How active are you?
Do you regularly engage in strength and cardiovascular training?
Do you feel strong and capable in your body?
Do you deal with any ongoing physical aches and pains?
Are you using your aquabike training as a motivator to get in better shape and or lose extra fat?
Are you over 40 years old, 50 years, 60 years?
Have you consulted your doctor?
Again, it is all doable.  A 50 year old newbie can train and compete in an aquabike event.  I was 3 weeks shy of my 50th birthday at my first half ironman aquabike.
The difference is that the timeline required for someone who is older or less active to get prepared for a race will be longer than the timeline needed for someone who is younger or more active and regularly trains.  All it takes is a thoughtful and consistent approach and more time factored in to allow for a proper progression of training.

When is the race?
Research local aquabike events online.  The best way is to google your area + triathlons.  Scan the results for events that also have an aquabike happening concurrently alongside the triathlon.  Check out my post,  "What is an aquabike race" for more aquabike 101.
Look for short events that are a minimum of 3 months away.
Longer events should be a minimum of 4-6 months,
plan even more time if you have several training gaps to fill.
How long is the distance?
As I just mentioned above, the distance of the event will greatly influence how much training you will need to prepare.  Some example distances are; swim + bike respectively; 400m + 14km, 750m + 21km and up to the half ironman which is 2km + 80Km.
Pick a distance that feels right for you. How do you know if a race is right for you?
Does it get you jazzed?
Does envisioning it get your heart rate up a bit and light you up?
Does it scare you a little bit?
Do you have a spark igniting that says,"Yeah, I can do that!"
That's how you know.  Read, "What is an aquabike race" for a description of my "aha" moment.
How much time each week can you commit to training?
What are your weekly commitments?
When can you train each week?
Can you commit to a regular schedule?
Will loved ones be able to support and help out if needed?
Making a commitment to invest time for training is critical to success.  Getting in shape for a multi-sport event is not something that happens on a "willy nilly let's see how we go" training (non) plan basis.  Take a look at your schedule and see where you can fit in training times.   It may involve having to go to bed early so that you can wake up in the early morning hours to train.  It could involve several hours set aside on the weekends to train while your spouse has the kids. Or perhaps it means stepping away from work a little to allow for more time spent on personal pursuits and fulfilment like training for a big event.
---
Evaluate your self assessment
Now that you have a full assessment of your variables, you can evaluate how much preparation time you need.
Short events – a minimum of 3 months
Longer events – a minimum of 4 – 6 months
Have several training benchmarks to achieve – 6 months plus
Getting ready for a short distance event with a minimum of 3 months is certainly doable for someone who is currently active, is fairly confident with swimming and biking; but could use a few pointers, and engages in some strength and cardiovascular training.  A less active person with less swimming and biking confidence may consider taking 4 months or more.
I gave myself 17 weeks to prepare for my 2km + 80km aquabike at the Rottnest Sufferfest.  In hindsight, I easily could have used a full 2 months more.  If you want to learn from my first event mistakes make sure you read the post.
Why so much time?
Because you are human.  Your body is a human body, not a machine.  Anytime you take up a new activity, you will want to give your body time to adapt.  Time to build stronger muscles and improve mobility, time to connect new networks of capillaries to improve oxygen delivery to limbs that aren't used to swimming without stopping and time to toughen up your bum for sitting on the bike seat.  You get the idea.
Give your body time and space to become fitter, faster, stronger and more resilient.  
That includes allowing proper rest and recovery time in between workouts.  Too much too soon too often will result in a breakdown of the system.  That breakdown will manifest itself in the appearance of a new ache or the re-appearance of an old one, or an injury, illness or even loss of drive and motivation.
I don't want that to happen to you.  I want you to plan and allow for your success.  Giving yourself time to train will let you do it intelligently and in a manner that is empathetic and receptive to what you and your body need over the course of the training.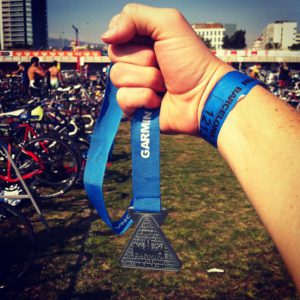 – And –
Because you want to represent.  You want to own it on the day.  You want to step up to the starting line possessing every confidence that you did it right.  And I believe you will.
I'd love to hear your thoughts.  Do you have your eyes set on an Aquabike race coming up?  How is your training plan going?
*The advice given here is meant as guidance for generally healthy individuals.  Please make sure that you consult your doctor before engaging in any new exercise regime, especially if you have been inactive, are older in age, or experience any symptoms that warrant seeking medical advice.