What is an Aquabike Race?
You may have recently heard the term "Aquabike event" or "Aquabike race" or even "Aquabike triathlon" and had absolutly no clue if you what you were hearing was English or not. I guarantee you that it does not involve riding bikes in the water.  It is not a spin bike in the water or a bike with pontoons above the water.   Although, since embarking on my Aquabike multi-sport adventure, I have come to realise that such things also exist.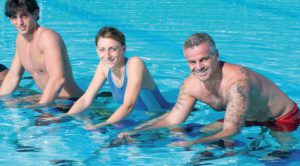 So again, you may ask, What is an Aquabike race?
An Aquabike race is a swim bike race.  It is essentially a triathlon that has been reduced by a 3rd, by eliminating the running part from the race.  In fact, most Aquabike events take place alongside triathlon events.  Registrants simply sign up for the Aquabike event, then swim and bike their race alongside the triathletes.  The only difference is that the aquabikeathletes (my term, I haven't seen it anywhere online yet!)  get to head to the pub while the runners strap on their running shoes and keep going.
Who is an Aquabike race for?
Quite simply an Aquabike race is for people who don't want to do the running part of a triathlon.  I spoke to many of my co-competitiors on my recent attempt at the Rottnest Sufferfest Half Ironman Aquabike and got a lot of answers as to why the swimming and biking competition appealed to them.
One gentleman said that he was saving his legs.
A woman about my age said that she used to do triathlons but then her knee started being unhappy with her.  She still wanted to stay in the game, so she switched to the Aquabike events.
Another younger woman in her 30s said that she just loves Aquabike racing.
I jumped on board because I've always wanted to try swim bike races.  It just took a while for the multi-sport world to catch up with my vision and organise them!
What are some other appealing reasons to compete in Aquabike?
Use it as an entry level event to introduce yourself to multi-sport endeavours. Aquabike events may be a perfect way for you to get started if you…
have spine or joint discomforts that make running difficult.
are older
have been fairly sedentary recently
need to significantly build up your strength and cardiovascular conditioning
running holds about as much appeal for you as licking postage stamps.
Initially training for an Aquabike event, rather than a full triathlon, will help you progress into your fitness a lot easier than if you suddenly slam your body with strength training, swimming, biking AND running all at once.  The best approach is to progressively build up your training so that your body has time to adapt, get stronger and become more fit.
Our bodies are human!  Take it gently.  If you are just starting out, your body is going to reveal ailments and uncomfortable niggles that you will need to listen to and address.  If you haven't been very fit for a while you will have a laundry list of things that will come out in the wash as far as getting your body moving, active and fit again.
Don't let that prevent you from starting,
Just start and train smart.
I am also a movement coach/ personal trainer.  It makes a whole lot of sense to me to leave out the running until you give your body and your mindset some time to progress through the training and sort out some of the newbie growing pains first.
Don't worry, be patient.
Rome wasn't built in a day.
Take your time, train consistently and thoughtfully, and you will better protect yourself against injury. You WILL get stronger, faster, more fit and more confident.  Eventually, and not too long into the future, you will be able to add running training so you can enter that triathlon, if you want and if it is right for you.
-OR-
You may just find that you love being an Aquabikeathlete so much that you never stop!
How long is an Aquabike event?
Aquabike race distances can vary quite a bit, so chances are you will be able to find a distance that suits your performance goals.  Some examples of race distances (swim + bike) provided in metric and imperial measurements.
| | | | |
| --- | --- | --- | --- |
| Swim (meters) | Bike (km) | Swim (miles) | Bike (miles) |
| 300   + | 14.5 | 0.2  + | 9 |
| 400   + | 19.5 | 0.24 + | 12 |
| 750    + | 20 | 0.5  + | 12.4 |
| 1500  + | 30 | .93   + | 18.6 |
| 2000  + | 60 | 1.24  + | 37 |
| 2000  + | 80 | 1.24  + | 56 |
How and when did Aquabike races become a multi-sport event?
According to USA Triathlon, Aquabike events began as a trial pilot program in 2005. In 2010, the organization started offering rankings of Aquabike athletes. As early as 2012, there were over 3000 U.S. athletes ranked as Aquabike athletes. To earn an official Aquabike ranking, you at least have to compete in 2 sanctioned Aquabike events in a calendar year.  There are also some other performance requirements that I will research in the near future. I did a cursory search of current rankings at USA Triathlon and found that here at the end of 2018 there are 56 females aged 40-44, 72 aged 45-49 and 106 females aged 50-54 ranked in Aquabike.  Not a bad representation for the ladies!
How do you find an Aquabike event?
Aquabike events are typically scheduled to coincide with triathlons in most countries. I live in Perth, Western Australia.
In Australia, you can find some information at Triathlon Australia. However, the best online source that I have found for easy reference to Western Australia Aquabike events is running calendar.com.au
In the USA, USA Triathlon has quite a bit of information on Aquabike events and how the multisport originated.
For any location, You can also google "aquabike events + your area"  You may have to sift through some sights that involve bikes in the water, but hopefully not.
Moving Forwards
I hope that this post gets you sufficiently motivated to…
Start planning your next Aquabike adventure &
Start moving your body and training
Before you embark on your first Aquabike race, read my post "My First Half Ironman Aquabike and Rookie Mistakes."
The key is to take immediate action on your new motivation.  Don't just let it wane away.  Write your new goals and intentions down in your journal so you remember them and can easily remind yourself later.
Share the love
Leave me a comment if you would like a little guidance. I'd love to help.
For the ladies, you can also stay in touch by submitting a request to join my closed Facebook group for women at my LEAP n2u Fitness – "Fitness and lifestyle mojo for women over 40."
I hope to see you there!